"Now in SOLIDWORKS 2020 users can open large drawing files in seconds"
New Detailing Mode option in SOLIDWORKS 2020 enables the user to open large assembly drawing or drawing with lot of sheets in seconds. SOLIWORKS always concern about the performance, they used to focus on enhancing the performance of the tool. Generally while opening a drawing file, the model data also loaded in the back ground. This will leads to time lagging while opening a large drawing file. But, in SOLIDWORKS 2020 user can open large drawing files quickly by using Detailing mode. In Detailing mode the model data or the reference component won't be loaded, but user can add or edit annotations within the drawing.
Kindly Note: This Detailing mode option is available for the drawing files saved in SOLIDWORKS 2020 or later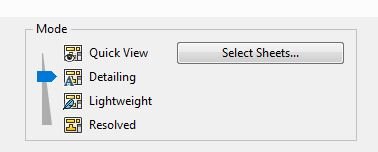 To access Detailing Mode:
Click Open on Standard toolbar or File > Open or Ctrl+O
Select SOLIDWORKS Drawing in File Type
Browse and Select the Drawing File
Select Detailing in the Mode Selector and Open
This detailing mode may seem similar as that Detached Drawings. The main difference between Detached Drawing and Detailing mode, the former requires that the file should be saved in that but the later doesn't requires that. Simply you can open any drawing file in Detailing Mode. This Detailing mode is similar to that of Large Design Review Mode in assembly file opening.
There are some limitations in Detailing Mode, user can able to do few things in Detailing Mode. User can add annotations, creating sketch entities, modifying dimensions and finally they print and save the files. Adding Views, BoM and measuring tools are restricted in Detailing mode.
Apart from annotations, user can edit the display settings; insert sketch blocks, adding general and revision tables. User also view and use the custom property values. The changes done in the Detailing mode can be saved to the existing drawing file, there is no separate save format for Detailing Mode.
"If you often make minor corrections to your large drawing files, then Detailing Mode will be very useful."