SOLIDWORKS 2023 Launch Event:
Explore the user-driven enhancements ready to help you and your teams work smarter, faster, and together.
Venue: The Residency Towers, Coimbatore; 18th Oct 2022
Is your role is to imagine products that don't exist and guide them to life?
We can help you elevate your Imagineering limits with industry-leading technology and our dedicated support!
SOLIDWORKS delivers powerful, easy-to-use tools that help you accelerate every aspect of your product development process including Design, Engineering, Governance, Management, Simulation, Manufacturing, Production, Product Marketing and Sales !
Featured software solutions
bought to you by
Coimbatore Cad Solutions Pvt Ltd
SOLIDWORKS 3D CAD
Intuitive 3D design solutions let you conceptualize, create, validate, communicate, manage, and transform your innovative ideas into great product
DraftSight CAD
Streamline your design process and deliver great designs through a seamless combination of powerful 2D drafting and 3D modeling capabilities
3D Experience Works​
Unite your entire organization from design and manufacturing to marketing and service in one collaborative, product development environment
SOLIDWORKS Education
The best professional products packaged in one bundle. Harness the power of the complete SOLIDWORKS portfolio, including mechanical 3D CAD, design validation, simulation, rendering, and dedicated support from Coimbatore Cad Solutions Pvt Ltd's dedicated support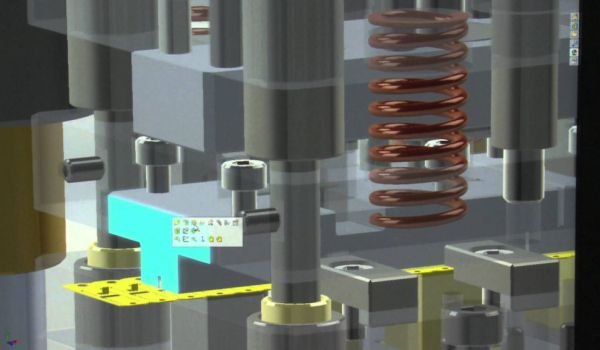 3D QuickPress
3DQuickPress is a SOLIDWORKS add-on for progressive die design. Powerful unfold for imported part, user-friendly strip layout manager, automatic die set design, and production-ready-libraries make 3DQuickPress the best user experience in stamping tool design.
SOLIDWORKS Research
If your research involves developing Intellectual Property (IP), patents, or publishing the results of your projects, the SOLIDWORKS Research Edition is the perfect tool for the job. With SOLIDWORKS software, you can go from initial concept through advanced analysis
Coimbatore Cad Solutions Pvt Ltd
We'd love to meet you and let you the perfect solution
We Coimbatore Cad Solutions Pvt Ltd have all the technology, training and technical support you need.
Whatever your product design goal, we have the SOLIDWORKS solution to help you succeed.
Need help? Our award winning technical support team are on hand to assist you

A Software is as powerful as the person who uses it. We specialize in enabling individuals!
We encourage professionals and students to take up SOLIDWORKS certification
We can work with your Human Resources department to help your business assess new hires
We provide high quality 3D Sand molds and core printing services used for metal casting
SOLIDWORKS Reseller Community in India
SOLIDWORKS in India : The People, How to Buy Guide, SOLIDWORKS Reseller locator, and Answers to FAQs
SOLIDWORKS India has developed a high-quality reseller base in India. They have cultivated a hygienic sales culture and tuned in resellers to help customers. SOLIDWORKS India and SOLIDWORKS Reseller have around 1000 engineers and executives working full time! SOLIDWORKS Incorporation sells their SOLIDWORKS 3D CAD, 3DExperience Works, DraftSight, SOLIDWORKS Simulation, SOLIDWORKS PDM, SIMULIA Abaqus, SOLIDWORKS Electrical, SOLIDWORKS Education and Research software through their authorized reseller in India.
SOLIDWORKS Reseller help the customer to choose the correct SOLIDWORKS solutions and services

SOLIDWORKS Reseller provide expert training to customer and help them to optimize SOLIDWORKS usage

They Support a customer with technical issues and fixes with minimal or no downtime

Most SOLIDWORKS resellers get involved with a customer to a better level to guide them in achieving their company goals. However, the level of engagement is a choice of the customer.
We Coimbatore Cad Solutions Pvt Ltd are Dassault Systemes SOLIDWORKS Reseller and certified SOLIDWORKS solution provider in India. Do get in touch with us for SOLIDWORKS Price, SOLIDWORKS Support, SOLIDWORKS Training and Certification. We support Tamil Nadu and Kerala Kerala Regions with Offices in Coimbatore and Trichy. Coimbatore Cad Solutions Pvt Ltd is a