Powerful 2D CAD Drafting Software
FREEDOM TO DO MORE WITH BETTER 2D DRAFTING AND 3D DESIGN EXPERIENCE
Streamline your design process and deliver great designs through a seamless combination of powerful 2D drafting and 3D modeling capabilities. DraftSight provides an intuitive 2D drafting and 3D design experience for architects, engineers, construction service providers, professional CAD users, designers, makers, manufacturers, educators, and hobbyists.
 DraftSight enables you to create, edit, view, and mark up any kind of DWG file. It offers a familiar user interface that facilitates a quick transition from comparable CAD applications.
DraftSight Packages : Buy DraftSight Online
perfect for companies, individuals and designers
suits best for designers, manufacturers and makers
for large organizations with many users or multiple sites
Frequently Asked Questions
Most frequent questions and answers regarding DraftSight 2D CAD purchase
How can i purchase DraftSight?
DraftSight Standard, Professional and Premium term licenses can be purchased online. Choose the product of your choice and click buy now in the column provided above. The purchase process is simple. You may also contact us if there is a query
What is the price of DraftSight?
DraftSight Standard Price = Rs.6,900/- Plus 18% GST* Per Year
DraftSight Professional = Rs.13,900/- Plus 18% GST* Per Year
DraftSight Premium = Rs.34,900/- Plus 18% GST* Per Year
*GST applicable for purchases made from India
What are all the payment options for Online purchase?
You can make payments through Credit Cards, PayPal and Wire Transfer. For faster delivery, we recommend Credit Card payment
How does DraftSight compare to AutoCAD?
DraftSight Standard, Professional and Premium provide similar functionality compared with AutoCAD and AutoCAD LT.
Do i have the Option to purchase DraftSight in USD?
DraftSight software can be purchased from around the world in different currencies. DraftSight can also be purchased in USD. DraftSight price in United States Dollars as follows
DraftSight Standard Price = $99/year
DraftSight Professional = $199/year
DraftSight Premium = $499/year
Type of License Available for DraftSight
DraftSight Standard, Professional and Premium come as a stand-alone license. DraftSight Enterprise and Enterprise Plus licenses are network licenses.
How do I renew DraftSight?
When you purchase DraftSight online, you are purchasing a subscription that automatically renews after the purchased term expires. One month before your renewal you will receive a notice regarding how to pay for your renewal. You can opt-out of the automatic renewal by managing your subscription which you can do from your purchase confirmation.
Compare DraftSight Product and Features
Draw fundamental elements such as lines, polylines, arcs, circles, ellipses, tables, hatches, clouds
Perform move, copy, rotate, mirror, pattern, scale, trim, chamfer, or split actions with modify tools
Measure and annotate distances between objects with dimension tools
Import, create, and manage layers, blocks, and external references, and output drawings to a plotter, printer, or file
Advanced 2D drafting and APIs for customization
Speed up your production workflows by using APIs for automation and customization
Save countless hours of design time by eliminating manual or tedious tasks with tools like Drawing Compare, Power Trim, Insert Centerlines, Pattern Along a Path, Curved Text, Batch Printing, and more
Convert raster images like floor plans and logos to vectorized line entities in seconds with Image Tracer
Easily insert standard hardware from a fully defined library of bolts, screws, nuts, washers, and pins, generate holes and callouts, create a bill of materials, add balloons, and more with the Toolbox
Import or export various file types and formats including PDF, DGN, SVG, XLS, and DSHBM (HomeByMe)
Robust 3D design and powerful integrations
Create anything from essential 3D shapes to sketch-based complex 3D solids, and generate 3D surfaces
Expand your design workflows through seamless integration with SOLIDWORKS Visualize for rendering and SOLIDWORKS Simulation for analysis. Use 3DEXPERIENCE Marketplace Make to connect with manufacturers worldwide for 3D printing or other processes.
Control drawing entities parametrically by specifying geometric and dimensional properties with 2D constraints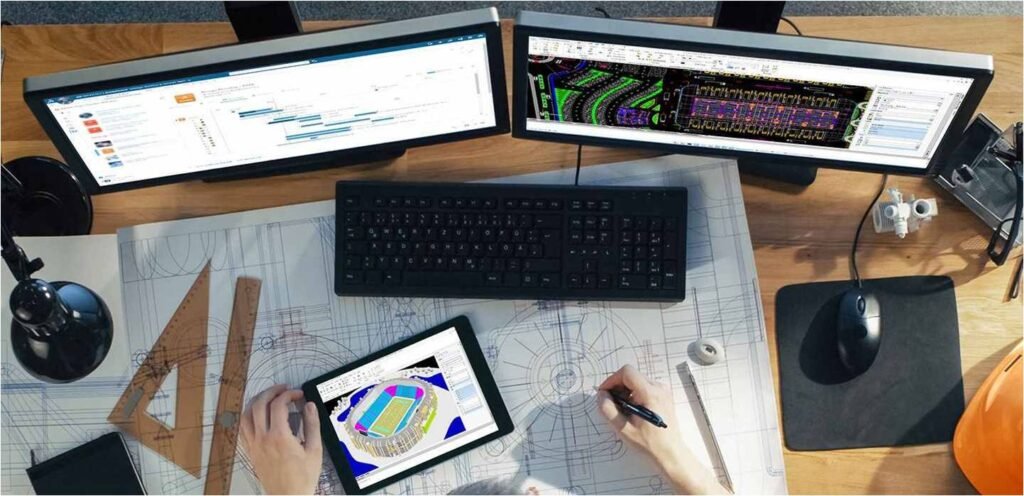 Support for many users and multiple sites
Enable concurrent usage and compliance across your organization with network licensing
Access full technical support to resolve issues and
eliminate downtime
Dedicated support from DraftSight reseller in India, Coimbatore Cad Solutions Pvt Ltd for Enterprise Editions
Coimbatore Cad Solutions Pvt Ltd is a certified support provider for DraftSight and authorized reseller for DraftSight. We Coimbatore Cad Solutions Pvt Ltd would love to meet you and let you the perfect solution
DRAFTSIGHT Product and Feature Matrix
Please Note :
* New feature in DraftSight 2020
† Feature currently unavailable in Mac versions
** 3rd Party PDF Import/Convert for DraftSight Plugin available
Minimum
64-bit version: Microsoft® Windows® 8.1, or Windows 10 (with latest Updates and Service Packs)
32-bit version: Microsoft Windows 8.1, or Windows 10 (with latest Updates and Service Packs)
Intel® Core™ 2 Duo, or AMD® Athlon™ X2 Dual-Core processor
1.5 GB free hard disk space depending on accessory applications installed
2 GB RAM
3D Graphics accelerator card with OpenGL version 1.4
Display with 1280 x 768 pixels resolution
Mouse
Recommended
64-bit version: Microsoft Windows 10 (with latest Updates and Service Packs)
32-bit version: Microsoft Windows 10 (with latest Updates and Service Packs)
Intel Core i5 processor, AMD Athlon/Phenom™ X4 processor, or better
1.5 GB free hard disk space depending on accessory applications installed
8 GB RAM
3D Graphics accelerator card with OpenGL version 3.2 or better
Full HD monitor
Wheel mouse, or 3D mouse
Mac® with Intel® Core™ 2 Duo processor or better
macOS X v10.13 (High Sierra), or v10.14 (Mojave), or v10.15 (Catalina)
2 GB of RAM (8 GB or more recommended)
1 GB of available hard-disk space for installation
3D Graphics accelerator card with OpenGL version 1.4 (OpenGL version 3.2 or better recommended)
Display with 1280 x 768 pixels resolution, or better
Mouse